Dennis Rodman may not have been sent to North Korea by US President Donald Trump, but that's not stopping the former basketball star from promoting his former reality TV co-star.
Rodman, who landed in Pyongyang Tuesday, was photographed presenting North Korean Sports Minister Kim Il Guk with a copy of Trump's book, "Trump: The Art of the Deal."
The NBA Hall of Famer is perhaps the only person in the world who has personal relationships with both the US President — he participated on Trump's pre-presidency reality TV show, "The Celebrity Apprentice" — and North Korean Supreme Leader Kim Jong Un.
Rodman has called Kim a "friend for life" and previously said that his relationship with the young leader — who's been accused of executing hundreds of people to cement his authority — is primarily about basketball, not politics.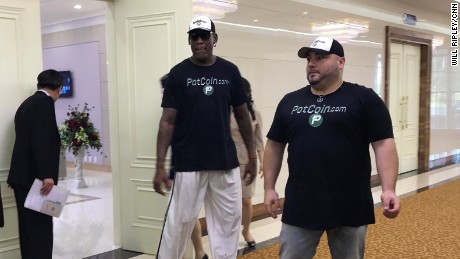 The five-time NBA champion has traveled to North Korea for informal "basketball diplomacy" a handful of times in the past and told CNN earlier this week at the airport in Beijing he hoped to do "something that's pretty positive" before he boarded a plane bound for the reclusive state.

<!-comments-button-->